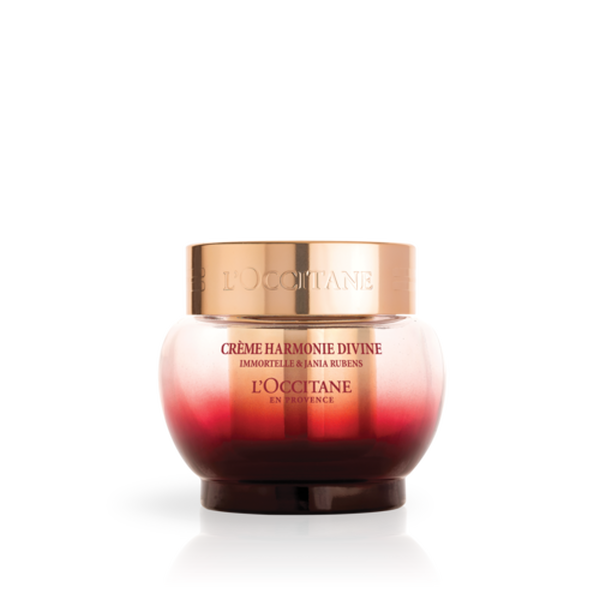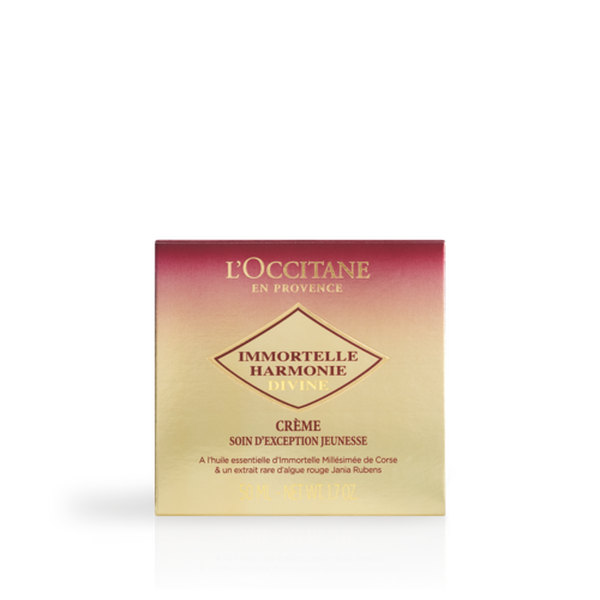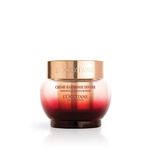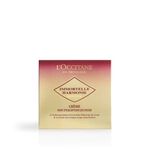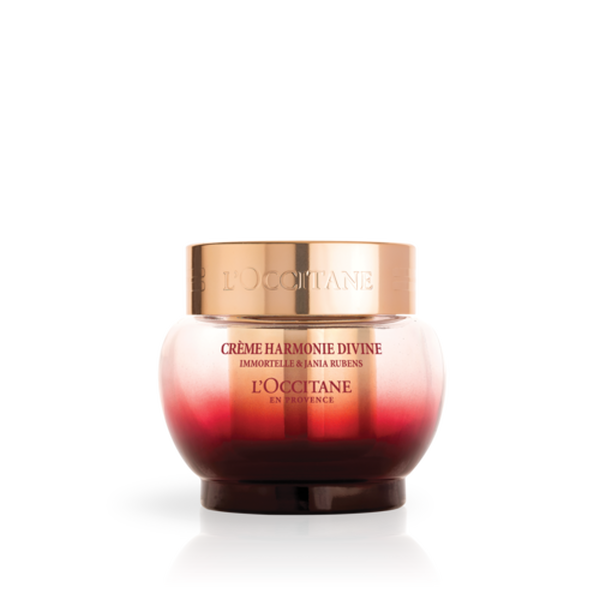 Divine Harmony Cream
An exceptional skincare cream that focuses on the youthfulness and harmony of the face.
Description
For the very first time, L'OCCITANE has combined the power of the earth and the sea of Corsica in exceptional skincare products. Immortelle Millésimée essential oil, from the flower that never fades, comes together with Jania Rubens, the algae with the ability to eternally regenerate.
This skincare cream is the second essential step in the Divine Harmony ritual and should be used morning and evening after applying the Divine Harmony Serum.
Our Spa experts have developed a new, specific application method inspired by Shiatsu techniques. This massage focuses on pressure points on the face, to help:
1. prepare the skin before applying the products,
2. optimize product absorption and give an instant feeling of comfort to the skin,
3. relieve facial tensions and smooth wrinkles and fine lines.

The unique formula of the Divine Harmony Cream evolves to offer a new sensoriality. It combines the nourishing powers of a cream with the exquisite finish of a dry oil.

On contact with the skin, the cream texture transforms into a soft oil that enables the formula to meld perfectly with the skin.

This cream-in-oil, with its subtle, aromatic scent, promises a unique, sensorial moment. Your face looks serene and reveals visibly better defined, balanced, more harmonious contours.

As part of its responsible, sustainable approach, L'OCCITANE has combined the beauty of luxury with respect for the environment by offering a refillable jar. Changing your Divine Harmony Cream refill is both quick and easy.
Tip
Use morning and evening, on face and neck, avoiding the eye area. Apply to clean, dry skin and gently massage in. Specific Energizing Gesture developed by our Spa Expert ; stimulate trigger points in order to : 1. Oxygenate the skin to make it more receptive 2. Have an optimum absorption and instant comfort 3. Release face tensions & Smooth out lines and wrinkles
Delivery Information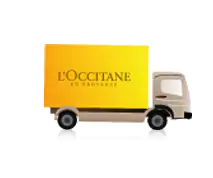 Free Shipping & Exchange
Free shipping on all orders of 249SAR+
Complete the Regimen
Beautifully Smooth
Experience luxurious textures and irresistible scents for a beautiful skin.
Beautifully Smooth
Experience luxurious textures and irresistible scents for a beautiful skin.